Wonder Girls

Promotional for "Why So Lonely"

Origin

South Korea

Genre

K-pop

Years active

2007- 2017

Label

Associated Acts

Website

Members

Sunye (2007- 2015)
Yeeun (2007- 2017)
Sohee (2007- 2015)
Yubin (2007- 2017)
Hyelim (2010- 2017)
Sunmi (2007- 2017)

Former Members

Hyuna (2007)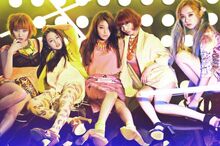 Wonder Girls (워너걸스) is a South Korean idol group under JYP Entertainment. The group was founded in 2007. They have recorded songs in Korean, English, Chinese, and Japanese.
Former Members
Edit
The Wonder Girls debuted in 2007 with the mini-album The Wonder Begins. Their original members were Sunye, Yeeun, Sunmi, Hyuna, and Sohee. They made their stage debut on Show! Music Core with the track "Irony".
Just a few months after their debut, the group's rapper Hyuna was pulled from the group due to health issues. She was soon replaced by Yubin , a former Good Entertainment trainee. Yubin made her debut on Music Bank for the group's second single, "Tell Me". The Wonder Girls released their debut album, titled The Wonder Years, on September 13, 2007. The album featured the songs from The Wonder Begins, as well as 10 new songs.
Following the release of their album, the Wonder Girls had great success with more hit singles: "So Hot" and "Nobody".
In 2009 they went on their first tour through Thailand, the United States, and South Korea. Soon after the tour, it was announced that the Wonder Girls would debut in the United States. Their American debut single was and English version of "Nobody". They accompanied the Jonas Brothers on their tour of the U.S., performing at 45 different concerts.
Near the beginning of 2010, member Sunmi left the group to focus on her education. She was replaced by trainee Hyelim. Hyelim soon made her debut in the single "2 Different Tears", which was released in three different languages: Korean, English, and Chinese.
On November 7, 2011 – one and a half years after their last song release – the Wonder Girls released their second album, Wonder World. The album featured 11 brand new songs. It also featured a remix of the lead single, "Be My Baby", and an English version of the same song.
On June 3, 2012, Wonder Girls released their latest mini-album, Wonder Party, with the title track "Like This". They are also preparing to start their Japan debut with the single Nobody for Everybody.
Discography
Edit
| | |
| --- | --- |
| | To view the Wonder Girls gallery, click here. |