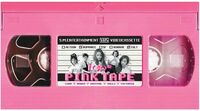 Pink Tape is the second studio album by f(x). It was released on July 29, 2013.
The song "Rum Pum Pum Pum" was used as the title track. Its music video was released on July 24, 2013.
Tracklist
Edit
Rum Pum Pum Pum (첫 사랑니; First Wisdom Tooth)
Shadow (미행 (그림자); Shadowing (Shadow))
Pretty Girl
Kick
Signal (시그널)
Step
Goodbye Summer (with f(Amber+Luna+Krystal)) (feat. D.O.)
Airplane
Toy
No More (여우 같은 내 친구; My Foxy Friends)
Snapshot
Ending Page
The digital download version comes with a digital booklet.
Coming soon…
External Links
Edit